me and kai watched Episode 14: Mainichi Doki Doki and this.was.the.hilarious.episode.ever!!


Lesson: When infatuated, do NOT do things single-handedly like Hanto did esp. scrambling the Engine Souls (Geta Soul on Bear-V's Cast? WTFLOL)

speaking of Go-onger, we bought the Minipla Engine Casts (on Uwajimaya Village on Downtown Seattle) that can be fused to be Engine-O!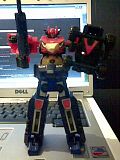 then Kiva 18, Otoya's a lucky shitpimp on the Billiard challenge and Nago was really a Button Otaku after all *roflmaos*

DoGaBaKi Form bitches!

till then, maidoari! *bang*