Though the video converting was a success, the subbing conversion is now much my problem.

We tried using Aegisub instead of VSS as a change, it's pretty simple and fun but they didn't have the synchro thingy we used to hit on.

I was thinking on this routine instead:

- Extract .vob file on the finalized DVD
- Convert it to .wmv
- Put .wmv on WMM and put the splasher/mp3
- File->Save Movie Clip as...
- Start translating it on Aegisub/VSS
- Convert it on VirtualDubMod as .avi
- Re-convert it on AnyVideoConverter on the high-possible settings on an .avi

Tedious but it's another thing of trial-and-error again.

Splashers, I made one of Hiro for now and still looking for good pics on Zelos and Little Snow.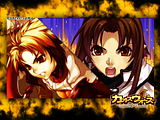 till then, maidoari! *bang*