I know this was a fucking long time ago but just sharing for anti-HSMUS fans (like us for instance...)

As the title implies, HSM JP is better than US because, BECAUSE the lead roles there are more recognizable like Koyama Keiichiro and Nami Tamaki!!




Crap-ass Info on KHQ by konreinokaze (aka JE fanfag...XD)

Info on Mika-nee's Blog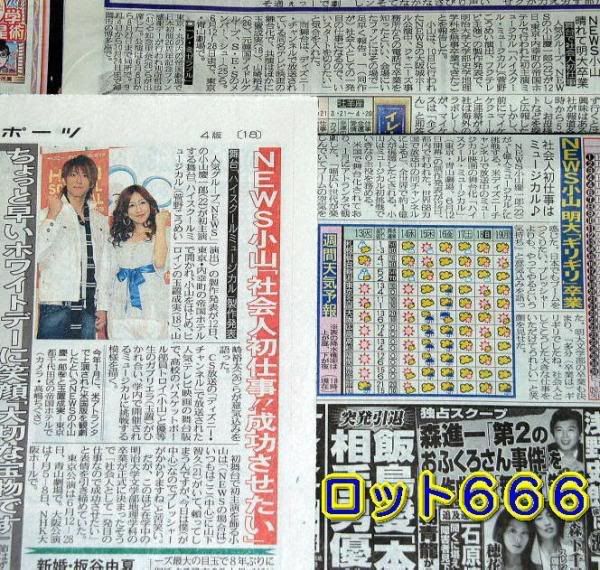 and some news regarding on HSM Japan....



NEWS' Koyama: from university to high school!
Mon, March 12, 2007 (3:45am EDT)

Keiichiro Koyama of popular Johnny's group NEWS will star in his first musical this June. The production is based on the hit Disney television movie, "High School Musical." In January, Koyama attended a performance of the musical in Atlanta, Georgia, along with pop star Nami Tamaki, who will co-star with him. After seeing it, he stated that he wanted to make it popular in Japan too. The musical will open on June 12 at the Aoyama Theatre in Tokyo.

It was also reported that Koyama will be graduating from Meiji University this month.

from: Yomuiri
Performance dates are June 12-28 at Aoyama Theatre, then July 5-8 at the NHK Osaka Hall.

source: tokyograph +

NikkanSports

+

Yomuiri
The cast includes Yuta Yamazaki, Shoo (of S.E.S.), Go Ueki, Yu Hasebe, Yoneko Matsukane, and Kentaro Hayami. It will be directed by Komei Sugano.
source: tokyograph +
Oricon


Mainsite:
FujiTV Stage: High School Musical Site


and the CM of HSM Japan + HSM JP cast interview





ok i know most of you dont know who are the artists going to play esp. the lead... but prolly most of you would know who Nami Tamaki is for she sang the theme song of Gundam Seed Theme 'Believe' and in Gundam Seed Destiny 'Realize'... with Keiichiro Koyama as said he's part of a famous boy-band in Japan called 'NEWS'.. [big fan of the group so please if you bash him ill bash you all into pieces *evil laughs*] yeah.. he's not only a singer, model but also an actor been into some dramas as well as last year... this will be his first theatre play... their pictures are upped above.. that was during the press con that happened last March 12...

with them i know Shoo cause she's part of a Korean Girl Band called 'S.E.S' which prolly some of you know cause her co-member Eugene whose in the drama 'Save the Last Dance' and 'Wonderful Life' that were aired in ABS-CBS by last year

till then, maidoari!