Me and sibs went yesterday on Downtown Seattle for the Chinese Festival, it was insanely uber fun esp. the Dragon/Lion Dance on Uwajimaya up to Kinokuniya (but disappointing though we don't have any digicam with us D:) and lookie at the stuffs we got (shots we're taken using the webcam):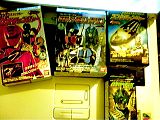 not in the pic: Copic Multiliner Pen Set A-2 and Foam W Eraser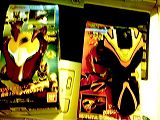 These two changers were used on the latest Live-action Tokusatsu Sentai Juuken Sentai Gekiranger (Power Rangers Jungle Fury in the US...eww), Gong Changer was used by Retsu's long-lost brother and Shigeki-user Gou Fukami (Iron Will: Geki Violet) and the Geki Changer were used by the three original triangles (Jan, Retsu and Ran). Me and kai really liked the Gong Changer is because you can actually "gong" it since the gold plate in the middle is actually real metal (chrome) and the Geki Changer was also cool but sadly when I tried it...

It wouldn't fit on me...
Sideway plz


Pictures on the Gong Changer (click on the links):

Gong Changer
,
Inner
,
Reverse
,
Reverse Inner
and the
bell!


and the Kamen Rider Den-O Figurines (again XDD) are Urataros, Kamen Rider Zeronos Altair Form and Kamen Rider Den-O Rod Form

Magazines are: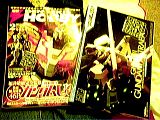 Dengeki Gundam February Issue with free GNY-001 Gundam Astrea 1/144 Scale Model (HG Gundam Exia) Conversion Kit [Gundam 00P] which is sadly...I don't have the real Gundam Exia Model Kit, just this Conversion Kit...XDD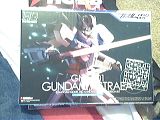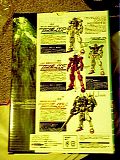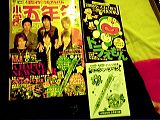 Shogakugonensai February 2008 Issue feat. NewS with free Pokemon Fushigi no Dungeon Yami/Toki no Tankentai Mini Grip Sharp Pen (which we gave it to
Mika-nee
)...



and for the munch stuffs...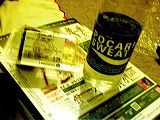 Musumi Ume (Pickled Plum Riceball) and Pocari Sweat...


Musumi Ume is seriously good though the pickled plum was kinda...salty (minus the sauce there, that's the Tartar sauce I bought on Fred Meyers XD) and the Pocari Sweat, *drools* good!!


and then last one, the three of us requested for a Calligraphy Paper and this is what we got: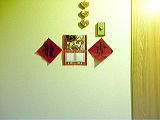 the guy who did the brushstroke was really awesome (though Calligraphy is also a subject on most Japanese/Chinese/Korean Schools)!! Minus the calendar there (Shojo Beat Calendar) and the cute hearts, on the left: Ryuu (Dragon) and on the right: Tora [Ko] (Tiger) though I'm not a Tiger (Water Dragon here~) and Mika-nee requested for her name to be in Chinese (not in picture) and she had one...


money and expenses isn't valuable unless you're insanely enjoying....srsly!

till then, maidoari and Kong Hei Fat Choi to all!